Looking for Exciting Technology Education?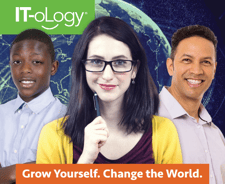 You found it! IT-oLogy offers a variety of technology-related educational programs - from students as young as 4, to adult professionals.
This program booklet details programs designed for students, teachers, and current, or future IT professionals. Programs include:
Pre-K - 12 (Cyber Summer Camps, Cyber Saturdays, and more)
Teacher professional development workshops
IT career development programs
Special events
If you're looking for a career change for yourself, or a future career for your student, IT-oLogy's programs are for you!