Learn about the challenges and opportunities SC faces as it builds a growing technology workforce.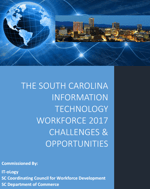 IT-oLogy and the South Carolina Department of Commerce studied the current state of the IT workforce. Our objective is to help prepare SC industry, education, government and individuals to continue to grow a strong workforce to meet the demands of a rapidly growing technology field. The report includes:
Workforce gaps and recommendations to close them
Top IT job openings
Most in-demand skills
Fastest growing IT jobs
Promising practices - examples of success
Complete the form on the right to receive your free report.
Return to www.it-ology.org